Stock Photography for Your Website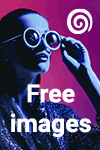 When doing any kind of web or graphic design work including:
designing your website
creating advertising banners
designing the interior of ebooks
ebook covers
creating videos
creating social media covers such as Facebook, Twitter, Instagram, etc.
and the list goes on…
you need to have access to good quality stock photography.
I've been using Dreamstime since around 2015, & they are now my go to place me whenever I want to find GOOD stock photography at low prices.
I used to use iStock, but right after Getty Images bought them out, the prices jumped & I wasn't happy with their customer service when they refused to change my account to USD.
While I haven't bought Dreamstimes's videos, they also have various videos you can choose from.
All content is royalty free, but depending on how you plan on using the photographs or videos, I suggest you read over their terms & conditions so you don't break any copyright laws.
Dreamstime also gives you some free images once a week. You just have to make sure you sign up for their free account.